Are you looking for sales jobs in Solihull? Have you considered recruitment?
​
Recruitment is one of the most fulfilling and rewarding sales jobs out there. Working with people every day, helping candidates find their perfect job and helping clients find talent to join their business. Oh and the earning potential is pretty great as well!!
​
If you have never done a recruitment role before, we have shared some key information on what to expect with the role of a Recruitment Consultant, what skills are needed to succeed in recruitment and what remuneration you would expect to receive.
​
Is the role of Recruitment Consultant actually a sales job?
Short answer is yes! The role of a Recruitment Consultants comes with specific targets that you need to achieve on a monthly, quarterly and yearly basis, which would be the same as most sales jobs out there. Plus, you are speaking to candidates every day discussing and selling opportunities and speaking to clients discussing and introducing candidates to them.
​
The beauty of this type of the sales job, is that recruitment will always offer you different challenges, situations and opportunities to any other sales job out there. The role of a Recruitment Consultant is varied and demanding, but here at Navartis we support, train and develop you to reach your full potential and become a successful Recruitment Consultant.
​
​
What is the role of a Recruitment Consultant?
A Recruitment Consultant is responsible for attracting candidates for job opportunities and matching them to freelance and permanent position with clients. Initially you will be focussed on speaking to candidates, building relationships and growing your specialist network. In recruitment is key to build your network, your reputation and your personal brand…. Due to the role being a people focussed role, trust plays a huge part in the role of a Recruitment Consultant.
​
At Navartis, our Recruitment Consultants specialise in specific areas such as Construction, Civils, Rail, Power and Telecoms. Within those sectors, they will usually focus on specific job disciplines, such as Quantity Surveying, Site Management and Planning. This will help you to become experts in the area you recruit in, helping to build specialist knowledge to help build trust with candidates and clients.
​
What are the typical sales duties for a Recruitment Consultant?
Typical sales duties and sales activities undertaken by Recruitment Consultants include:
​
Advertising job vacancies across multiple channels, including job boards, email marketing and social media

Researching companies, professions and specific sectors

Maintaining and updating the company database

Obtaining references

Networking with candidates via phone, email and face to face meetings
​
What qualifications are needed to secure a Recruitment Consultant role?
​At Navartis we don't look at what sales qualifications you have. We believe that if you are committed to learning and developing your sales skills and you are driven to achieve then we will support you on your journey to becoming a successful recruiter.
​
Although no sales qualifications are needed, there are some key skills that would benefit you and your sales career within recruitment. These include:
​
Good communications skills

Excellent written skills

Be persuasive, patient and persistent

Be flexible and have the ability to adapt

Ability to prioritise

Ability to work to deadlines and under pressure
​
What can you earn as a Recruitment Consultant?
We offer Trainee Recruitment Consultants a basic salary of £18,000 to £20,000 per annum, dependant on experience. On top of this your on-target earnings (OTE) offers you the ability to earn a lot more, which for successful Trainee Recruitment Consultants can be anything up to £60,000+ on top of you basic salary. Our on-target earnings (OTE) are uncapped meaning you really are in control of what you are able to earn.
​
If you don't have experience within recruitment, we would always suggest joining us at a Trainee Recruitment Consultant level, this is so you have time to build your knowledge, understanding and network without having unachievable targets you need to meet. We have lots of example of Recruitment Consultants joining us at Trainee level and reaching Senior within the first 18 months, which by industry standards is very quick.
​
Below are a few of the many benefits we offer our people here at Navartis…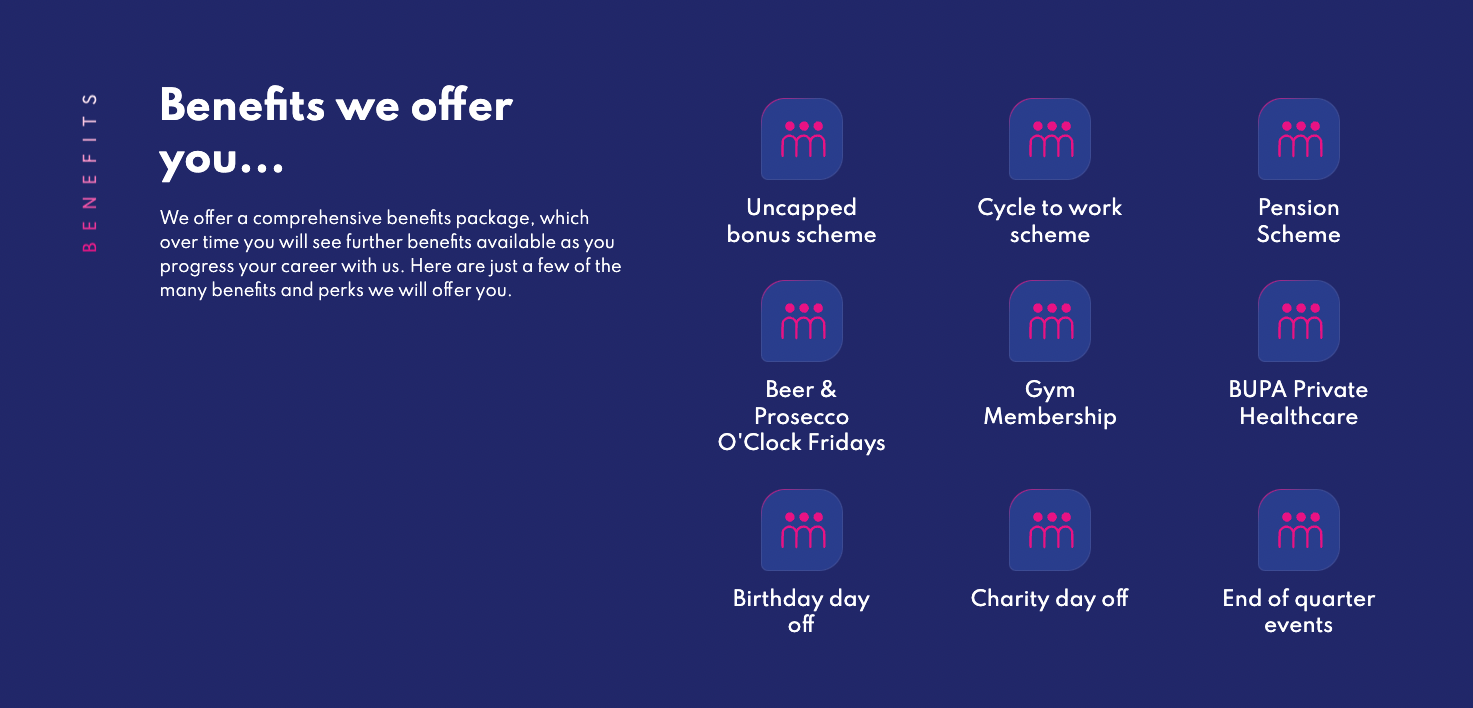 ​
What training is offered to Recruitment Consultants?
Training from company to company differs hugely. At Navartis we are proud of the training we have in place, which has helped countless Recruitment Consultants in our business achieve, develop and progress within the business.
​
Our Recruitment Consultants receive a tailored training programme, which starts the moment you walk through the door and flexes to suit your career aspirations. Our training is not just aimed at those new into the business but continues throughout all the stages of your career, including structured management training for those who aspire to being future leaders in the business.
​
Our training is delivered by experienced trainers who have not only worked in our business as Recruiters and Managers but who are also fully qualified trainers to a CIPP standard.
​
What does sales training look like with us?
Georgia Rowland, Learning & Development Officer at Navartis explains what to expect when it comes to sales training and development when you start your sales career with us.
​
​
​
​
Want to find out more about working at Navartis?
We are always looking for talented, driven and motivated sales people to join our Solihull office. So if you are keen to find out more about life at Navartis, including the training offered, career progression, our culture and the benefits, check out out join us page.
​
​​
Check out all of latest Sales jobs in Solihull
If you are keen to carve out a career in recruitment we are currently hiring. Check out all of current Recruitment jobs in Solihull.
​
​
Need interview advice for a sales job?
We have put together some top tips and advice on how to get the best out of your interview and give yourself the best chance of impressing the interviewer. From body language to questions to ask and everything in between, we cover the key areas that can really make a difference and help you stand out from the crowd.
​
​
​
Why a sales job is a great job
A sales job can make someone happy for various reasons. Here are some common factors that might contribute to someone finding happiness in a sales job...
​
A sales job offers a sense of achievement and recognition
Sales jobs often involve setting targets and goals, and achieving or surpassing them can bring a sense of accomplishment. When sales people meet their targets, they may receive recognition, rewards, or incentives, which can enhance their happiness and motivation.
​
A sales job offers significant financial rewards
Sales jobs can give opportunity for high earnings through commission-based structures or performance bonuses. For individuals who are motivated by financial success, the opportunity to earn well can be a source of happiness and satisfaction.
​
A sales job offers is centred around building relationships
Sales jobs typically involve interacting with a diverse range of people, including clients, customers and colleagues. For individuals who enjoy social interactions and building relationships, this aspect of the sales job can be fulfilling and enjoyable.
​
A sales job offers constant learning and growth
Sales is a dynamic field that requires continuous learning and improvement. For individuals who enjoy challenges and personal development, the opportunity to acquire new skills, master persuasive techniques and expand their knowledge can be intellectually stimulating and fulfilling.
​
A sales job has a significant positive impact on business
Sales people can see the direct impact of their efforts on the success of their company or the satisfaction of their customers. Closing a sale or helping a client solve a problem can provide a sense of purpose and fulfilment, knowing that their work is making a difference.
​
A sales job gives you variety and excitement
Sales jobs often involve working on different projects, dealing with different clients, and facing diverse challenges. The element of variety and the potential for new experiences can add excitement and keep the job engaging and interesting.